June 2019
TNSR™
New Release: TNSR 19.05 Now Available
TNSR Application Spotlight: Four New Application Deep Dives
TNSR Presentation at FD.io Mini-Summit: Electric Cars are the future. But Most Aren't Using Them Yet.
pfSense®
pfSense Zanata Translations
pfSense Protecting DreamHack
The Impact of Hardware Architecture and Software
Other News
TNSR FAQs
TNSR Trials
Netgate Tech Tip of the Month

TNSR 19.05 Now Available!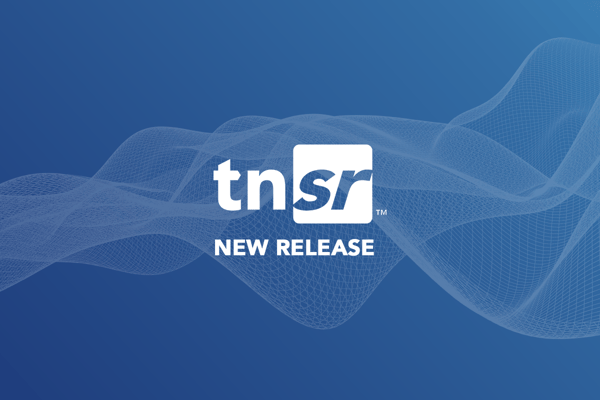 Since the release of TNSR 19.02 back in February, we have had a substantial amount of customer engagements. These customers have provided great feedback into how we need to advance TNSR. On May 31, we announced the 19.05 release of TNSR and it provides a number of enhancements to our enterprise and service provider firewall, VPN and routing solution.
Ready to get started with TNSR? Visit our trial page.
New In-depth Application Briefs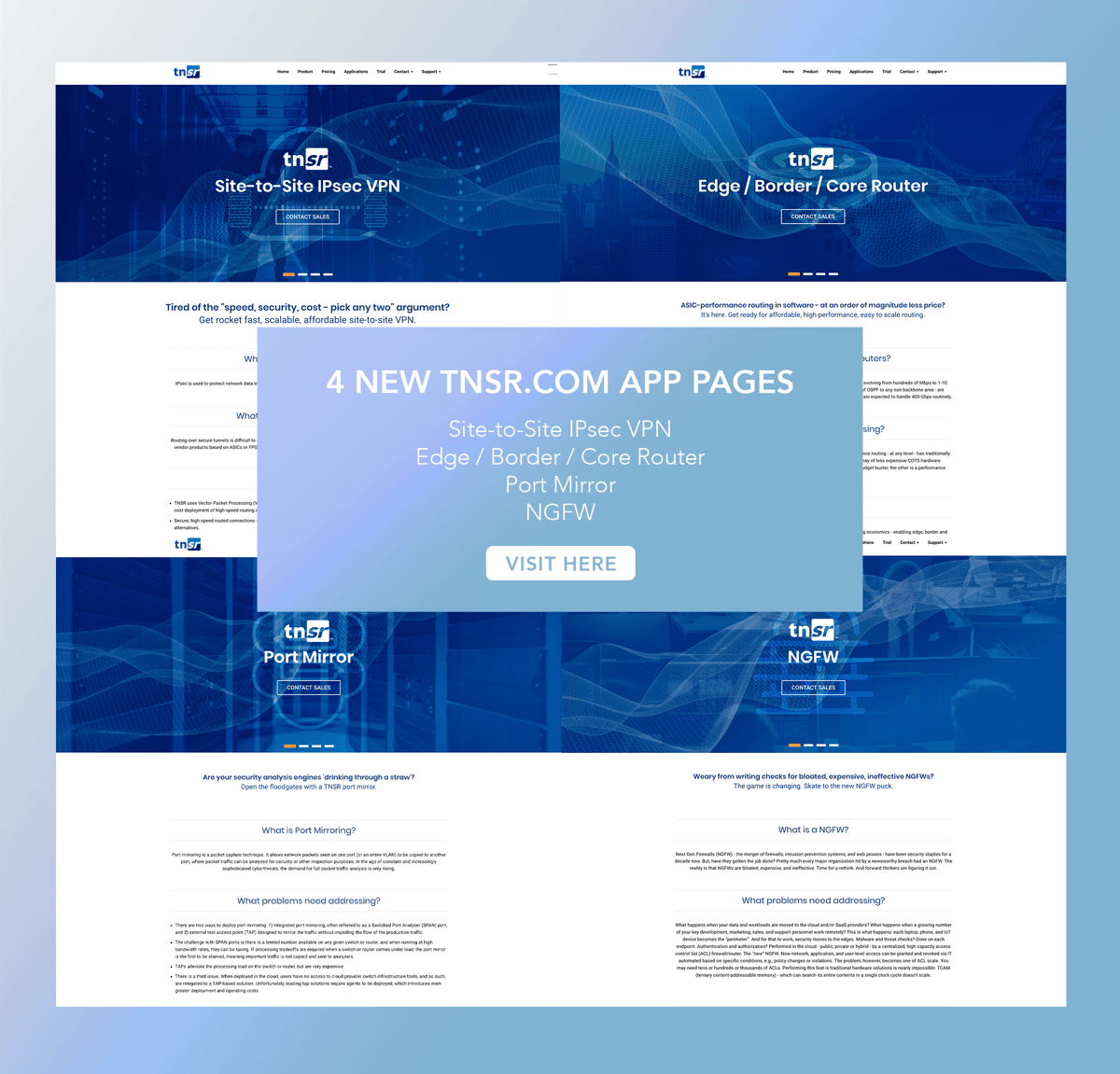 TNSR is a highly adaptable enterprise and service provider solution that can be used across a wide range of applications. In these four new in-depth application briefs you can see how some of our customers are harnessing the power of TNSR in their environments for:
With use case diagrams, hard performance numbers, and real-world deployment examples see how TNSR is disrupting secure networking and how it will benefit your business.
For more TNSR use cases, videos, and data sheets, please visit our TNSR resource page.
TNSR Presentation at FD.io Mini-Summit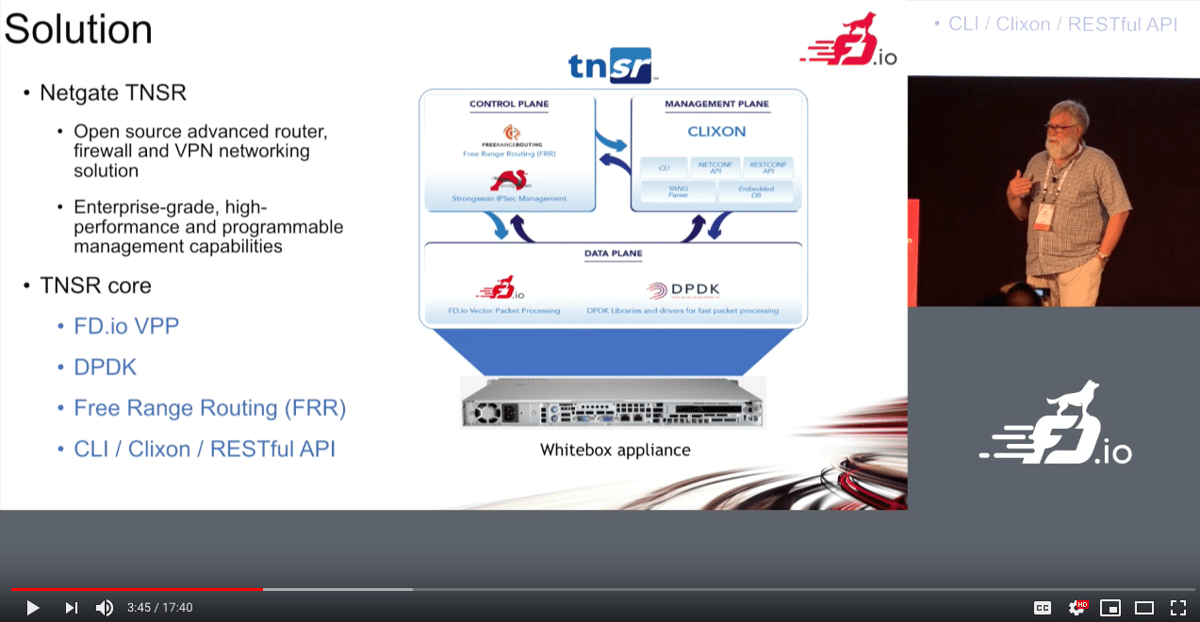 Containers are the future. But most aren't deploying them yet. That means the other 2/3 of the FD.io deployment diagram - bare metal and VM - are still very important ways to take advantage of FD.io, and specifically, Vector Packet Processing (VPP). In this presentation, Jim Thompson Netgate CTO, walks through two deployed use cases - one on premises, and one in the cloud - where FD.io is bringing performance gains - and price performance gains - to bear right now.

pfSense Zanata Translations
pfSense documentation is being translated into more than 50 languages - with many already incorporated into pfSense - in support of more than one million installations deployed on literally every continent, and in every vertical market space. We want to make sure the valued work of pfSense translators continues for the good of the worldwide user community. Our new Zanata instance, http://zanata.netgate.com, is fully up to date with all existing and in-progress translations migrated from the RedHat-based Zanata system.
We are inviting all pfSense translators to register at our new site. Please visit https://info.netgate.com/zanata-translator and simply enter your email address, preferred username, and the language(s) to which you translate.
pfSense Protecting DreamHack Dallas
We were excited to announce that we upgraded DreamHack's IT infrastructure to offer more powerful pfSense secure networking capabilities to the 20,000-25,000 thousand gamers that attended DreamHack Dallas.


"We are proud to have Netgate appliances with pfSense software be a significant part of DreamHack's network backbone and its overall security," said Jamie Thompson, Netgate CEO. "Our solutions are used in every vertical and on every continent, but a gaming convention is a particularly robust test of product performance, stability, and speed of deployment."
Choosing the Right Netgate Appliance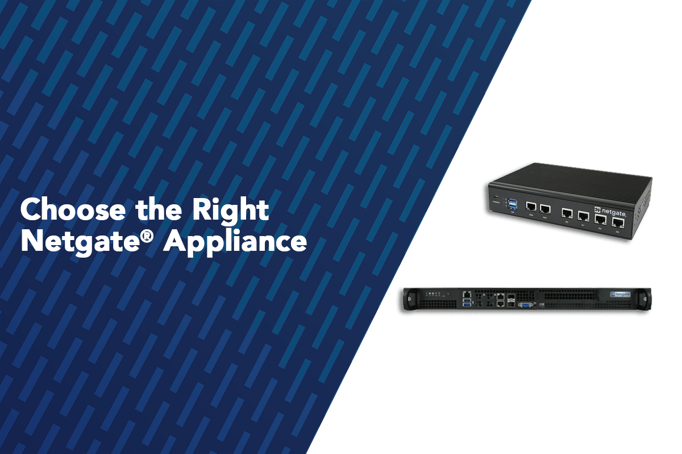 Netgate has a popular set of secure networking appliances ranging from the SG-1100 to the XG-1541. Buyers can quickly and easily differentiate them on the basis of physical interconnect, CPU, and price.
But, there is another purchase factor that is less obvious, yet quite important. That factor is the product's internal architecture. You may (or may not) be aware that internal architecture differs significantly across the SG-1100, SG-3100, SG-5100, XG-7100 and XG-1537/XG-1541.
In our latest blog, we cover a few secure networking use cases that routinely surface in customer conversations and how the Netgate appliance architecture should play a part in your decision.

Other News
TNSR FAQs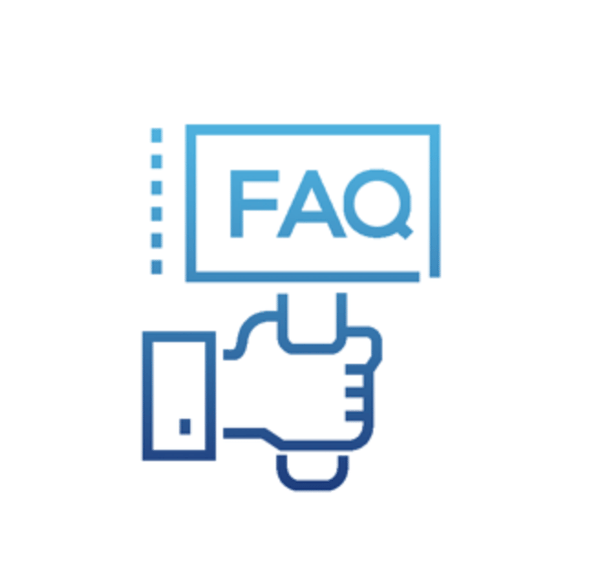 Have questions about TNSR? We created a FAQ page that answers some of the most commonly asked questions.
If for some reason the FAQ doesn't answer your questions, we encourage you to sign up for an account on the Netgate forum and ask in our TNSR section.
TNSR Trials
TNSR is an open-source based packet processing platform that delivers superior secure networking solution performance, manageability, and services flexibility at a fraction of the cost of legacy brands.
Designed for enterprises and xSPs
Common use cases include:

Edge / Border Router
Site-to-Site Secure VPN
CG-NAT
Zero Trust Hi Vol ACL Firewall
Port Mirror
Hi Speed Cloud Connectivity

Quickly and easily configurable via CLI or REST API
Our hands-on trials include:
Quick start application guides
In-depth product documentation
Phone/email access to support engineers
Netgate Tech Tip of the Month

Always take a backup of the firewall configuration prior to any major change to the firewall, such as an upgrade.
Do not update packages before upgrading pfSense! Either remove all packages or do not update packages before running the upgrade.
The upgrade will take several minutes to complete. The exact time varies based on download speed, hardware speed, and other factors such installed packages. Be patient during the upgrade and allow the firewall enough time to complete the entire process. After the update packages finish downloading it could take 10-20 minutes or more until the upgrade process ends. The firewall may reboot several times during the upgrade process. Monitor the upgrade from the firewall console for the most accurate view.
Consult the Upgrade Guide for additional information about performing upgrades to pfSense software.

Thanks for subscribing to the Netgate newsletter. For more information on Netgate and its products, engage with us on social media, or visit our forum. We're always looking for ways to improve. Want to share feedback? You can contact us here. Find the newsletter informative? Recommend it to a friend or colleague and direct them here!
Join our Social Media Community!
Contact Us!

Have a question? Contact us here.
See you next month!
Netgate
© Copyright 2002 - 2019 Rubicon Communications, LLC
Netgate is a registered trademark of Rubicon Communications, LLC
TNSR is a trademark of Rubicon Communications, LLC
pfSense is a registered trademark of Electric Sheep Fencing, LLC
Other trademarks are the property of their respective owners.