April 2019
Content:


TNSR
High-Speed Routed IPsec
Now Available on Azure
Support Overview
pfSense
SG-1100 in Stock
pfSense Cloud Customer Survey Winner
The pfSense Book
Other News
Share Austin
TNSR Trials
Netgate Tech Tip of the Month

High-Speed Routed IPsec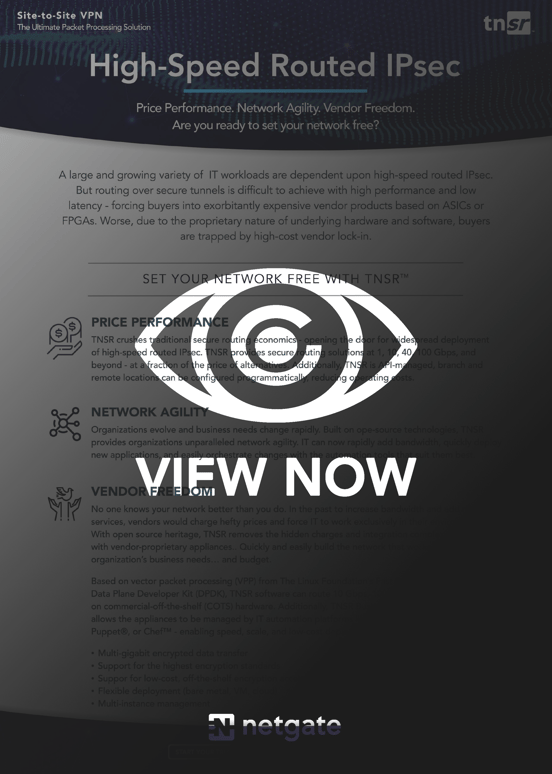 Are all of your applications in the same building as your users? Centralized data centers, cloud-based workloads, and remote sites all need secure, high-speed connectivity and routing flexibility. Routed IPsec solves those problems, but choose carefully! Getting to high speed IPsec can force organizations into vendor lock-in and exorbitantly expensive licensing. In our High Speed Routed IPsec brief, we show you how TNSR can give you the best price for performance, network agility, and deployment flexibility.
TNSR Now Available on Azure!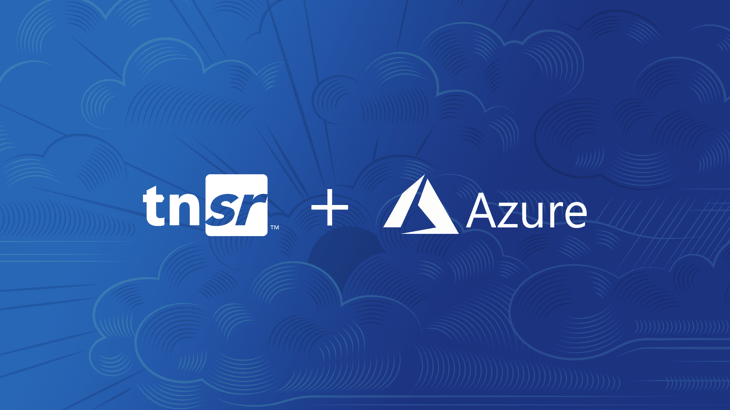 TNSR delivers on the promise of cloud networking, with firewall, VPN and routing capabilities up to the maximum speed available. TNSR is available on the fastest Azure VMs. Right now, that's up to 30Gbps, but the cloud isn't standing still and neither is TNSR!
TNSR is a pure software networking solution that delivers 100 Gbps on the right hardware, so as bandwidth scales in the cloud, you'll be ready. Scale bandwidth, scale management, and build dynamic services to meet your needs with TNSR on Azure.
TNSR Support Overview

From branch office to enterprise — on-premises to cloud, our 24/7 global support team has you covered start to finish.
First, access to the TNSR community forums is free. The forums serve as a watering hole where questions and issues can be directly addressed by knowledgable users and Netgate staff. Additionally, full TNSR documentation and our product resource library are free. These information sources provide in-depth guidance on both what you can do with TNSR and how to do it.
Access to our Technical Assistance Center (TAC) professionals is included in all TSNR software subscriptions. TNSR Business and TNSR Business Plus both offer direct access to TAC personnel, but are differentiated by Service Level Agreement (SLA) and communications channel. Find out the right TNSR product and level of support for your organization from our comparison on the support overview page.

SG-1100 Back in Stock

The SG-1100 is Netgate's replacement for the highly successful SG-1000 and we were overwhelmed by the initial orders. We are now fully restocked and fulfilling current orders and can't wait to get them in the hands of our customers.
If you are not aware of how the SG-1100 compares in terms of performance, be sure to look back at the "Netgate's New SG-1100 Punches WAY Above Its Weight" blog from January.
pfSense Cloud Customer Survey Winner
We want to thank everyone who participated in the pfSense Cloud Customer survey. Your feedback is greatly appreciated!
As stated in the survey, we randomly picked a winner out of the participants and that person is Steven Tremayne!
Again congrats to Steven and thanks to all for your participation.
The pfSense Book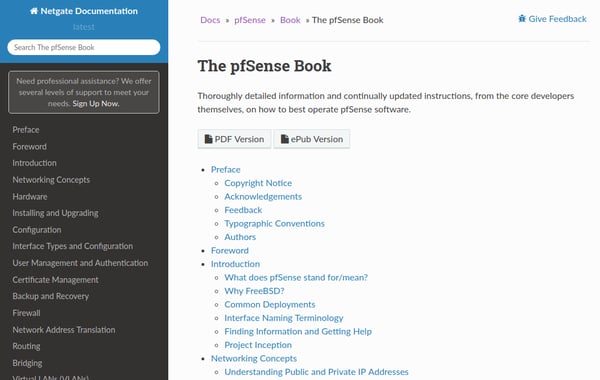 If you have, or are looking into, pfSense for your home or business, the pfSense book is a great resource. It contains thoroughly detailed information and continually updated instructions, from the core developers themselves, on how to best operate pfSense software.
This book is designed to be a friendly guide to common networking and security tasks along with a thorough reference for the capabilities of pfSense software. The pfSense Book covers the following topics (and more!):
An introduction to pfSense software and its features
Firewall design and hardware planning
Installing and upgrading pfSense software
Using the web-based configuration interface
Backing up and restoring the firewall configuration
Firewalling fundamentals including defining and troubleshooting rules

Other News
Share Austin

If you are a customer who recently purchased an SG-1100 you may have noticed that the inside the box includes some artwork of Austin landmarks. With the culture and heritage of Austin having a direct influence on Netgate we wanted to share what makes Austin unique.
If you follow Netgate on social media you may have seen some customer submitted photos of their boxes on Twitter and Facebook. We encourage you to share these as well and also our Share Austin page.
TNSR Trials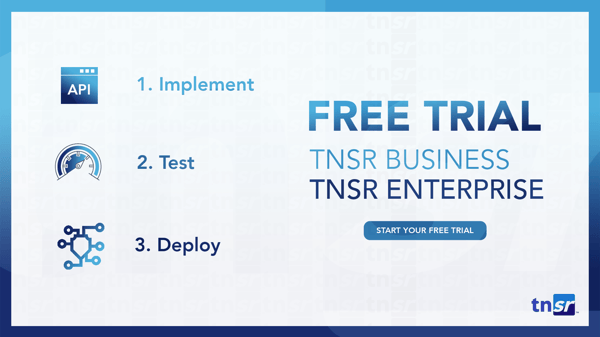 Evaluation licenses of TNSR Business and TNSR Enterprise are still available. Our TNSR Business trial lets you take a full-featured test drive for up to 120 days risk-free while our Enterprise trial has a higher level of support and is perpetual for a given release version (one instance only).
Netgate Tech Tip of the Month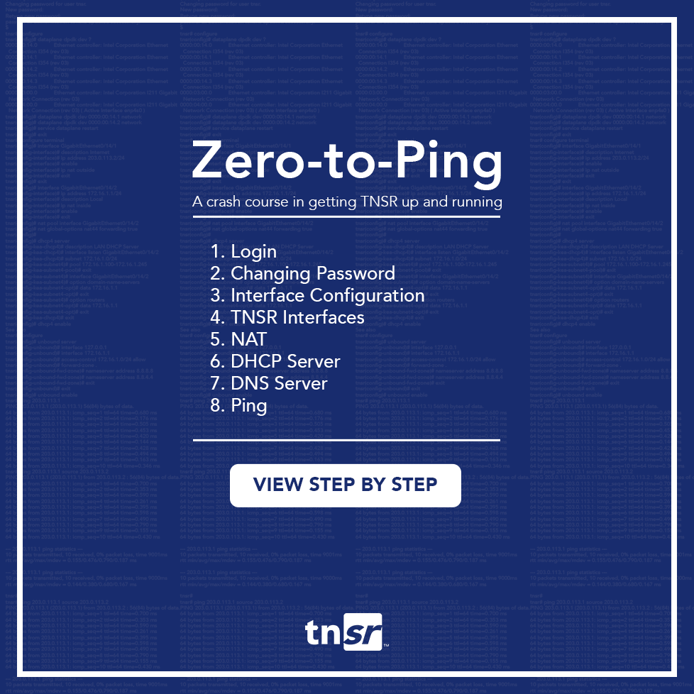 Customers just getting started with TNSR will find this Zero-to-Ping document valuable. This document is a crash course in getting TNSR up and running quickly after installation, going over the following:
1. First Login
2. Changing the Password
3. Interface Configuration
4. TNRS Interfaces
5. NAT
6. DHCP Server
7. DNS Server
8. Ping

As always, if you have questions or feedback for TNSR you can let us know by posting in our TNSR board on the Netgate forum.

Thanks for subscribing to the Netgate newsletter. For more information on Netgate and its products, engage with us on social media, or visit our forum. We're always looking for ways to improve. Want to share feedback? You can contact us here. Find the newsletter informative? Recommend it to a friend or colleague and direct them here!
Join our Social Media Community!
Contact Us!

Have a question? Contact us here.
See you next month!
Netgate
© Copyright 2002 - 2019 Rubicon Communications, LLC
Netgate is a registered trademark of Rubicon Communications, LLC
TNSR is a trademark of Rubicon Communications, LLC
pfSense is a registered trademark of Electric Sheep Fencing, LLC
Other trademarks are the property of their respective owners.